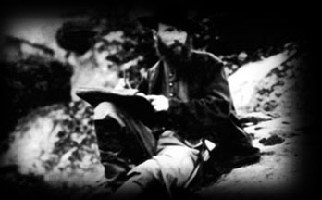 Reviews will be written about each reenactment from the spectators and photographers point of view.The main focus and emphasis will be on the battle itself. The purpose of the review is to document the event as well as provide color commentary and constructive analysis. It is hoped that any comments made here will be helpful in making future events more enjoyable for all. Photos will also be included in the reviews. (Note: not all photos in the articles will be available in the final gallery of the event) Please feel free to send me any comments.
CRITERIA USED TO REVIEW THE BATTLES

1. A GOOD VIEW- We want to see a clear view of as much of the action as possible.

2. ENTERTAINING ACTION- We want to see lots of entertaining action and drama (historically accurate of course).

3. NO MODERN-DAY DISTRACTIONS- We want to see as little modern day distractions as possible. (ie...telephone poles, modern buildings, structures, photographers and cameramen, vehicles ect...)

2001 REENACTMENT REVIEW ARTICLES
2002 REENACTMENT REVIEWS ARTICLES (tentative schedule)
REVIEW OF THE MAHAFFIE EVENT (Olathe, Kansas April 21st 2002)-no review will be written
REVIEW OF THE BATTLE OF SHOAL CREEK (Liberty, Missouri,May 18th-19th)
REVIEW OF THE BATTLE OF WENTZVILLE (Wentzville Missouri, June)
REVIEW OF THE BATTLE OF ATHENS (Athens, Missouri August 3rd-4th 2002)
REVIEW OF THE BATTLE OF PERRYVILLE (Perryville, Kentucky October 7th-8th 2002)
REVIEW OF THE BATTLE OF PRAIRIE GROVE (Prairie Grove, Arkansas December 7th-8th 2002)

@Copyright 2001-2002. Civil War Reenactments Illustrated. All rights reserved