ABOUT THIS SITE: This site is dedicated to preserving and documenting American Civil War Reenactments. This site also wants to honor and pay tribute to all those Americans who fought, struggled and died in our nations war between the states. Special thanks to all those who are involved in and participate in the modern reenactments we see today; without which most of the images in this site would not be possible. This site will primarily cover events demonstrated in the Midwest region of the country with most occurring in the states of Missouri, Kansas, and Arkansas. One National event per year will be covered whenever possible. Please feel free to sign my guest book and or e-mail me with any comments or questions. Thanks for visiting and enjoy the journey back into History!
VIEWING THIS SITE: Due to the high volume of photographs, graphic text,music and sounds found here,a high speed internet connection is strongly recommended to view this site. Your patience will be required while pages load viewing with non high speed connections. Thank you very much for your patience. Also, most of the text in this site is written in the"Verdana Ref " and "Arial" text font. Most web browsers default text settings are set with "Times New Roman". This font will not display the text here in its best appearance. Please change the default text settings in your web display preferences settings to one of these fonts at a 12pt. size to view text as it was intended to be shown.
WHAT'S NEW? This site.wil be undergoing some major changes this year. A new site that will work in conjuction with this site is already underway but still in construction.
You can visit now to get a preview:
**NEW** Tribute to Paul Imler The reenacting community has suffered a great loss with the passing of Paul Imler On June 3rd 2002.
Click on his photo on left to visit the tribute page.
***NEW*** CRITIQUES AND COMMENTARY OF THE MOVIE " GODS AND GENERALS"
(click below to go to critics page ) ATTENTION REENACTORS-POST YOUR COMMENTS AND CRITIQUES OF THE MOVIE!
COMING SOON - TRIBUTE PAGE FOR COLONEL TED PRATER
On December 7th and 8th at the Battle of Prairie Grove, Arkansas, 2002 the 20-year veteran commander of the 1st Missouri Battalion (C.S.A) faught his last battle and retired from the hobby.
ATTENTION EVENT SPONSORS AND ORGANIZERS:Please contact me if you would like me to design any promotional ads,flyers,video covers, ect... to advertise your event. In addition to what you see here I also have archived images from the following 2000 events;The Battle of Carthage-Carthage Missouri,Wilson's Creek,Lexington. Mo. and Prairie Grove Arkansas. Also I may be available for hire to cover a reenactment at another location not listed
2003 SCHEDULE:Below is a list of 2003 events that I am planning to attend and document.(This list is not set in stone and is always subject to change)
Visit New Website Below for schedule
REENACTMENT ILLUSTRATED

COMING SOON PHOTOS FROM
click on image below for a preview
OVER 50 BATTLE PHOTOS WILL BE INCLUDED

ALSO COMING SOON IMAGES FROM THE BATTLE OF PERRYVILLE

CLICK ON IMAGE BELOW TO GO TO GALLERY IN THIS SITE


Featuring the photography of Dave Teeter and with the computer inhancement by Ruben Gusman


PHOTOS COMING SOON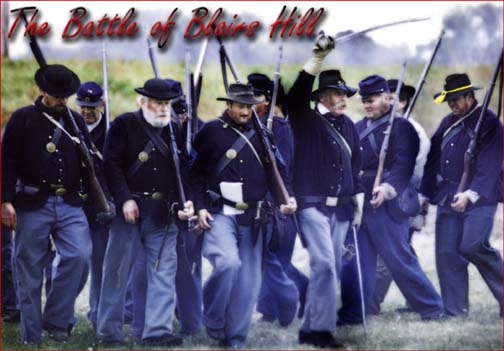 PHOTOS COMING SOON
@Copyright 2001-2002. Civil War Reenactments Illustrated. All rights reserved